Urszula Janik
flute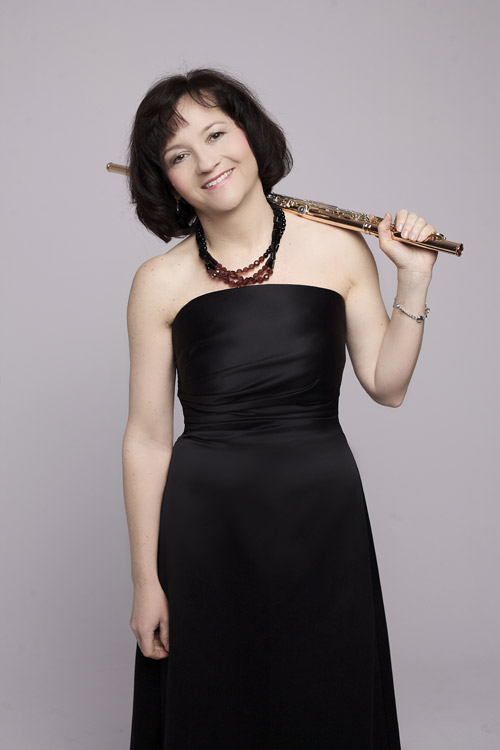 Urszula Janik commenced her study of the flute at the Henryk Wieniawski Secondary State Music Schoolin Łódź in the class of Professor Antoni Wierzbiński, completing her education under his direction in the Acedemy of Music in Łódź (honours diploma, 1984). She has refined her skills in the Paris Coneservatory in the class of Professor Alain Marion, who has endowed her with a one year scholarship as a distinction at the J.P. Rampal International Flute Competition in Paris. She has continued her studies for another year as a scholar of the French government. During this time she took part in master classes of interpretation in Nice (Professor Alain Marion), Bayreuth(Professor Milan Munclinger) and in Duszniki (Professor Jerzy Mrozik).
In the course of her studies she took part in many international flute competitions which resulted in numerous awards and distinctions. The most important include: 1st prize and special prize at the National Flute Competition in Włoszkowice, 4th prize at the International Flute Competition in Ancona (Italy), 4th prize at the 1st International Flute Competition in Kobe and 6th prize at the J.S. Bach International Flute Competition in Leipzig.
Immediately after graduation Janik has engaged in regular cooperation with the Polish Chamber Orchestra (currently the Sinfonia Varsovia Orchestra), in which she was appointed flute principal and soloist. The artistic personality of Urszula Janik was established during the orchestra's work with some of the greatest musicians of our times, such as M. Argerich, Ch. Dutoit, J. Galway, I. Grafenauer, L. Hager, M. Maisky, A. Marion, A.-S. Mutter, K. Penderecki, J.-P. Rampal, M. Rostropovich and many others. Yehudi Menuhin holds an exceptional place among them, with Janik performing as soloist under his direction.
Urszula Janik performed with many symphony orchestras in Poland and as soloist with the Sinfonia Varsovia Orchestra in many countries in Europe. Her debut performance at the National Philharmonic was the solo flute part in Andrzej Panufnik's Symphonie Concertante under the direction of Jerzy Katlewicz. Janik has also made an archive recording of this work with the Great Symphony Orchestra of Polish Radio and Television
(WOSPRiTV). She also made many other archive recordings for Polish Radio and Television. A CD with Urszula Janik performing chamber works by C. Debussy, J. Ibert, M. Ravel and A. Roussel was released in March of 2002.
Urszula Janik is the flute principal and soloist in the National Philharmonic Symphony Orchestra in Warsaw since January of 2002.
She has been teaching the flute class at the Grażyna and Kiejstut Bacewicz Academy of Music in Łódź since October of 2002. She is also a lecturer at many flute courses and workshops, including in Nowy Sącz and Sarbinowo. She sits in juries of national flute competitions and auditions. In May 2010 she was invited to the 8th International Flute Festival in Slovenia, where she performed and led flute workshops together with such stars of flute music as Professor Peter-Lukas Graf and Emmanuel Pahud.
In 2012 Janik released an album titled "Barwy Fletu" [Colours of the Flute], containing masterworks of French flute music. An album containing her solo performance in Krzysztof Penderecki's Fonogrammi  was released the same year. The album was nominated for and subsequently received a 2013 Grammy award.
In February of 2013 Urszula Janik obtained the title of doctor habilitatus of the musical arts.