Duo Jatekok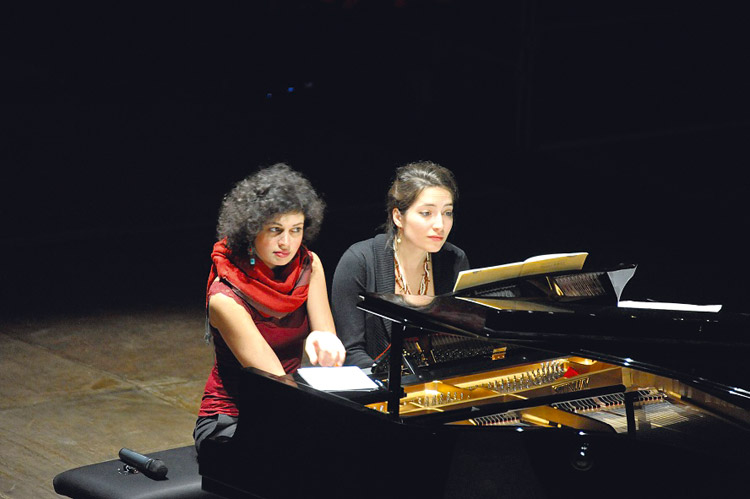 Adélaïde Panaget piano
Naïri Badal piano
Made up of pianists Adélaïde Panaget and Naïri Badal, the Jatekok Duo is gaining a reputation as one of the most promising contemporary duos. Following topmost awards of the Gent 2013 and Roma 2011 international competitions, plus the prize for contemporary music at the Normandy 2012 musical forum, they have been invited as artists‐in‐residence at the prestigious Musical Chapel of Queen Elisabeth of Belgium. Furthermore, they have also joined the "Spedidam Generations" programme.
Adélaïde Panaget and Naïri Badal first met at the age of ten when taking music lessons. The ties of friendship and artistic sensitivity they share led them in 2007 to create their four hands piano and two piano duos. After obtaining their Piano Master's Degree at the Paris Academy of Music in the under the lecturers B. Engerer and N. Angelich, they obtain successfully the Chamber music Master's Degree with C. Desert and A. Flammer. With the passage of time, they received the advice of such concert performers as D. Bashkirov, F. Braley, C. Eschenbach, G. Joy‐Dutilleux, C. Huvé, A. Kouyoumdjian, Y. Markovitch, J.C. Pennetier, C. Ivaldi and the trio Wanderer trio.
They are award‐winners following many competitions and have been granted many scholarships: the Valberg International competition in 2007, the Grieg competition in Oslo with special mention for their interpretation of Borodine, and grants from the SYLFF, Meyer and Gubelkian foundations and the patronage of the Société Générale and ADAMI.
Their energy as performers, awakening the enthusiasm of the audiences, has led to invitations to many festivals and International events. For example, they have placed at the festivals of La Roque d'Anthéron, Les Folles Journées, Debussy in Argenton, the "Free Electrons" at the Paris Conservatory, Musikenvignes … In Paris, they have been invited to perform at the Invalides and the Cité de la Musique, in Prague at the Dvorac Museum, in Sicily at the Borselino Theatre, in Rome at the Massimo auditorium, in Brussels in Flagey… Ever eager to discover new works, they alternate between the classical repertory and the creation of contemporary works, jubilating at one and the same time as actors, musicians, dancers and composers around hitherto unprecedented projects.