Maciej Frąckiewicz
accordion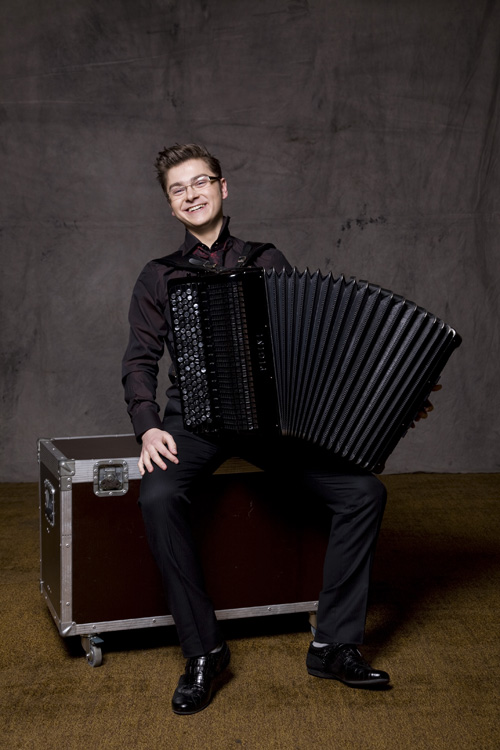 Maciej Frąckiewicz accordion
Maciej Frączkiewicz is the winner of one of the most presigous accordion competitions in Arrasate – Hirria (Spain) 2012. In 2012 he graduated with distinction from the Fryderyk Chopin University of Music in the accordion class of Klaudiusz Baran, where he is now a lecturer. From October 2010 to June 2011 he held an Erasmus Scholarship under Iñaki Alberdi in Escola Superior de Música de Catalunya in Barcelona, Spain. Since October 2011 he has been a student at the prestigious Konzertexamen Solistenklasse in the Hochschule für Musik in Detmold (Germany).
Maciej participated in numerous master classes in Poland and abroad: Ottweiler in Germany and Salzburg (Austria) led by the most important musicians in accordion world: Professor W. L. Puchnowski, Claudio Jacomucci, Stefan Hussong, Teodoro Anzellotti, Iñaki Alberdi, Yuri Shishkin and also with cellist Julius Berger. He received numerous honors and prizes (more than twenty) at prestigious festivals and music competitions, both in Poland and abroad in Germany, Spain, Slovakia and Italy. His most important prizes include awards in competitions such as: 1st prize and Grand Prix at the 3rd International Accordion Competition in Poprad (Slovakia) (2003), 2nd prize at the 42nd International Accordion Competition in Klingenthal (Germany) (2008), Main prize at the 8th Competition of 20th and 21st Century Music for Young Performers in Radziejowice (Poland) (2009) (organized by the Polish section of ISCM), 1st prize at the 13th International Carlo Civardi Accordion Competition in Val Tidone, Italy (2010), special prize at the 14th International Competition of Contemporary Chamber Music in Cracow, Poland (2010).
In February 2008 he was one of 7 finalists who played at the national finale of the 14th Eurovision Grand Prix for Young Musicians. He performed "Aconcagua Concerto for Bandoneon and Orchestra" by Piazzolla with the Polish Radio Symphony Orchestra under Łukasz Borowicz.
In 2010 he represented the Polish Radio in Bratislava (Slovakia) at The International Forum of Young Performers (IFYP) – "New Talent" Competition organized by the European Broadcasting Union.
Maciej's extensive repertoire ranges from transcriptions of the classical music of composers such as Bach, Scarlatti, Rameau and Albeniz to a huge programme of original literature for the instrument by composers such as Sofia Gubaidulina, Vagn Holmboe, Arne Nordheim, Georg Katzer, Toshio Hosokawa, Jose Maria Sanchez-Verdu, Bent Lorentzen, Jukka Tiensuu, Andrzej Krzanowski and others.
He collaborates with the Young Circle of Polish Composers Union, and also with famous Polish composers such as Krzysztof Penderecki, Paweł Szymański, Cezary Duchnowski, Dariusz Przybylski, Wojciech Ziemowit Zych and Wojciech Blecharz.
He received many important Polish scholarships from the Polish Children's Fund, Musical Safety Pin J&S Pro Bono Poloniae Foundation, Societe Generale, from the Marshall of podlaskie voivodship and from the Minister of Culture. He received the "Młoda Polska" [Young Poland] Scholarship from the Ministry of Culture for recording a CD of contemporary Polish music for accordion and cello (TWOgether Duo with Magdalena Bojanowicz). In 2012 he received the DAAD preis for the best foreign student at the HFM in Detmold.
He has performed as a soloist with Polish Symhony Orchestras under conductors such as Paavo Järvi, Lukas Vis, Emin Güven Yaslicam, Young Chill Lee, Łukasz Borowicz, Sławomir Chrzanowski, Michał Klauza, Krzysztof Jakub Kozakiewicz and Zygmunt Rychert. He was the first accordion player in history who has performed as soloist with the National Philharmonic Orchestra. In March 2011 he played the premiere performance of Dariusz Przybylski's Concerto for Accordion and Orchestra with the National Polish Radio Symphony Orchestra Katowice. The work was also dedicated to him by the composer. He has also premiered the 1st Symphony by Andrzej Krzanowski with the National Philharmonic Orchestra under the baton of Lukas Vis.
He has appeared at a number of festivals in Poland and abroad: "Warsaw Autumn", "Musica Moderna" in Łódź, "Two Days and Two Nights" in Odessa (Ukraine), "Festival of Polish Music" in Cracow and "Musique au Leman" in Thonon Les Bains (France). During the festival "Musica Polonica Nova" in Wrocław (Poland) in 2010 and 2012 he performed recitals of new works written for him.
Maciej Frąckiewicz has recorded for Polish Radio, TVP Kultura and WDR 3.