Lucero Tena
castanets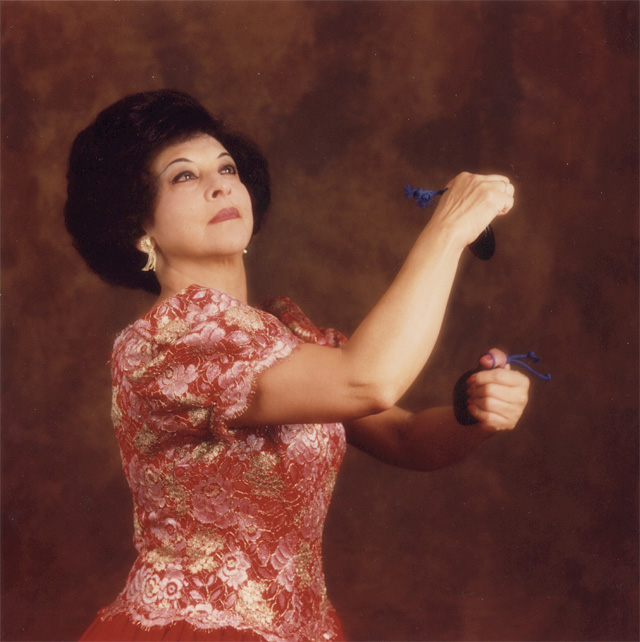 Lucero Tena has marked a personal, unmistakable style to her performance of the castanets, and she has distinguished herself for her promoting and incorporating this instrument into the big concert halls as solo instrument of concert works. Under this meaning she has created the name of Castanets Soloist, proper to her activities.
Lucero Tena has performed as soloist in concert halls on five continents, under conductors like Lorin Maazel, Mstislav Rostropovich, Rafael Früebeck de Burgos, Jesús López Cobos, Sergiu Comissiona, Franz-Paul Decker, Miguel Ángel Gónmez Martínez, Peter Guth, García Navarro and Adrian Leaper, among others.
Apart from her recitals, accompanied by classical guitar or piano, Lucero Tena has performed as soloist with prestigious orchestras, such as the Israel Philharmonic, Hamburg Symphony Orchestra, London Philharmonic Orchestra, Vancouver Symphony Orchestra, Orchestre du Capitole of Toulouse, Lyon Symphony Ochestra, Jerusalem Symphony, Bayerischer Rundfunk of Munich, Spanish National Orchestra and the Lausanne Chamber Orchestra, with always much acclaim from the public and the critics, a success which was repeated on occasion of the farewell concert of the Orchestra in Lausanne. Lucero Tena collaborated with the Madrid RTVE Orchestra in January 2002 in Madrid, for the official concert of the Spanish Presidency of the EU. She has also played with the Philharmonic Orchestra of Malaga in the Festival of Nerja, the Galicia Symphony Orchestra, Orchestras of Strasburg and of Ottawa, Orchestra of the Strauss Festival in Vienna and the Orchestra of the Teatro Comunale of Bologna, Italy. She recently appeared in the Hannover Staatstheater and in the La Folle Journée Festival in Nantes.