A MEETING WITH INSTRUMENTS
Silesia Music Center zaprasza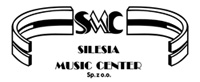 foyer przy Sali PROUST 
THE COLOURFUL WORLD OF PERCUSSION
Mariusz Mocarski, Krzysztof Nowakowski

MANY SHADES OF THE GUITAR


WILL THE COMPUTER EVER REPLACE CLASSICAL INSTRUMENTS?

Silesia Music Center
For nearly two decades, the Silesia Music Center has been developing its activities on several levels. It is not only a distributor of several dozen leading brands of musical instruments (Pearl, Kawai, Rico, Fazioli), but also an active sponsor of music festivals (including the Chopin Competition and Jazz Jamboree) and of meetings and educational workshops (music workshops and master classes led by renowned musicians from all over the world).