A Weekend of Musical Folly Takes Off
La Folle Journée – Music from France and Spain – the Polish edition of the greatest festival that popularises classical music, organised by the Sinfonia Varsovia Orchestra, has taken off. It's a true weekend musical folly – 60 concerts (!) in three days (27-29 Sept.) by 1000 artists from all over the world. The inaugural concert starts at 7 p.m. in Salle Balzac.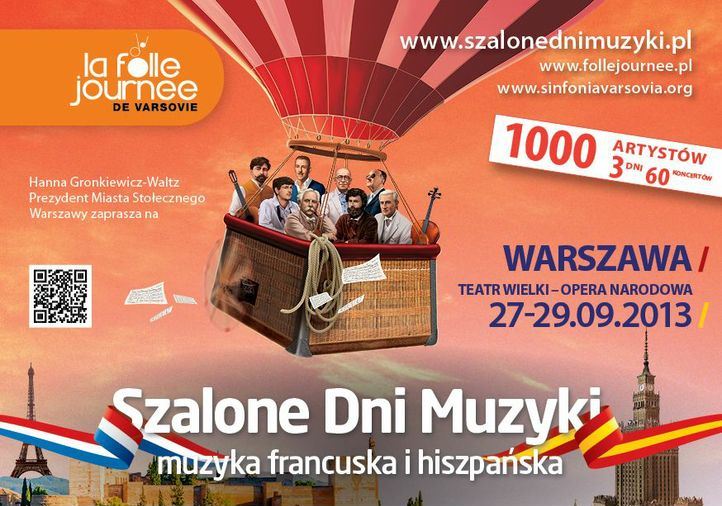 Only a few more general rehearsals and the mad festival takes off at full speed. Debussy, Bizet, Ravel, Albeniz, Fauré, Poulenc, De Falla and Rodrigo are composers whose works will be performed the most during three days of concert madness.
The first sounds will be played at 6 p.m. by cellist Anna Papierz with the orchestra of theTadeuszSzeligowskiSecondaryMusicSchoolinLublinunder the direction of Iwona Borcuch. Admission to that concert, and to all others in the Gaudi festival tent, is free. Concerts in the tent will be mainly by young performers – ensembles and soloists from 11 schools from all overPoland, who have won the competition organised by the Sinfonia Varsovia orchestra and the Centre for Artistic Education.
The festival organisers would also be pleased to see you in Salle Gaudi to attend concerts by the PercuCircus percussion sextet, the New Trio ensemble and a show by Café Cortao Compañia Flamenca (Saturday at 8:30 p.m.) which will conclude with a flamenco workshop for the audience!
The inaugural concert takes place in Salle Balzac (1600 seats). Here, we will hear The Sorcerer's Apprentice – Dukas' humorous symphonic scherzo performed by Sinfonia Varsovia with selected Young Performers (participants of theSinfoniaVarsoviaAcademy project and music school students) under the direction of Jean-Jacques Kantorow. The largest stage of the festival will also witness performances by world-famous artists, including Philippe Giusiano (piano), Lucero Tena (castanets) and the Cañizares Flamenco Trio (guitar, dance, palmas).
Early morning Saturday – a musical feast for fans of symphonic music. Pianists Claire Desert and Florent Boffard will perform in Salle Balzac with the Polish Sinfonia Iuventus Orchestra (11:00 a.m.). The programme includes Poulenc's concerto for two pianos in D minor – a motoric, lively work, imbued with jazz harmonies. The Story of Babar the Little Elephant for narrator and orchestra is an interesting and unusual offering by the same composer.
Just a short while later (11:30 a.m.), Young Performers will play, among other works, Saint-Saëns' Danse macabre in Salle Picasso, a picturesque venue usually not open to the public. After that concert you will do well to move on to Salle Proust, which will be filled with the sounds of Debussy's famous Prélude à l'après-midi d'un faune, transcribed for flute and piano. At 2:30 p.m., in the same hall, a recital by French pianistClaireDesert will surely move the audience with her grace and depth of interpretation.
Early in the evening, at 7 p.pm. and 8 p.m., be sure to go to the foyer next to Salle Prooust to attend some extraordinary Meetings with Instruments, including "The Colourful World of Percussion" and "All the Shades of Guitar".
The last concert on Saturday (Salle Picasso at 9 p.m.) will amaze fans of chamber music. Excellent, renowned artists Augustin Dumay (violin) and Michel Dalberto (piano), accompanied by Quatuor Modigliani will perform a moving, beautifully melodic work – Chausson's Concerto for Violin, Piano and String Quartet.
There is a varied, interesting selection of works on Sunday as well. Noteworthy are recitals by excellent pianists Michel Dalberto (Salle Proust, 11:00 a.m.), Luis Fernando Pérez (Salle Picasso, 4:00 p.m.) and Philippe Giusiano (Salle Proust, 6:00 p.m).
Admirers of well-known melodies will be thrilled to hear works by Bizet: L'Arlessienne suite no. 2 arranged for concert band (Salle Eiffel, 2:30 p.m.) and Habanera from the Carmen suite (Salle Balzac, 1:00 p.m.). At the same concert, young artists from the music school in Gdańsk will perform virtuoso works for violin and orchestra: Ravel's Tzigane and Saint-Saëns' Introduction and Rondo Capriccioso. Listeners will be able to pause for reflection by attending a performance of Fauré's Requiem, played by the orchestra and choir of the music school inWrocław (Salle Picasso, 11:30 a.m.).
Not to be missed is an extraordinary concert of symphonic music with animations by renowned Polish performer Mariusz "Wilk" Wilczyński, shown simultaneously with Saint-Saëns' Carnival of the Animals performed by Sinfonia Varsovia and conducted by Arie van Beek (Salle Balzac, 11:00 a.m.).