Classical Music is in Demand!
La Folle Journée 2013 – music from France and Spain
27-29 September 2013
3 days – 60 concerts – 1000 artists
more than 36 000 listeners visited the festival
La Folle Journée 2013 – Music from France and Spain has come to an end. The greatest festival in the world which popularises classical music turned out to be a hit in Poland as well. La Folle Journée attracted a record number of persons to visit the Grand Theatre – National Opera for the second year in a row. Average attendance in the Opera's auditoriums was 95%. Over three days, an audience of 23 146 visited the Opera and 11 000 more attended concerts in the Festival Tent set up in Theatre Square. 2 700 students and teachers from Warsaw's primary schools participated in the Labyrinth Event which preceded the festival, bringing total attendance to 36 846 listeners and participants.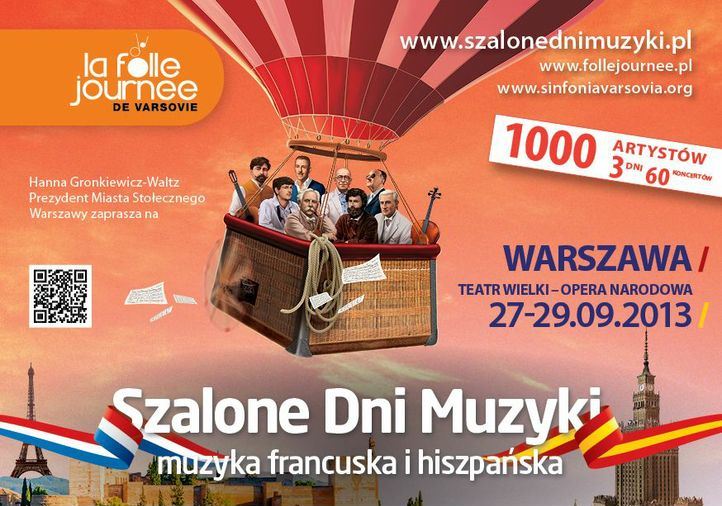 If someone thinks that classical music is only for the chosen few, they did not take part in La Folle Journéeand did not see the crowds, the lines to buy tickets, the lines to be let inside a concert. Each year, the festival proves that tens of thousands of people are interested in this kind of music. They travel from all over Poland to Warsaw to participate in a real musical feast. This shows that this kind of festival is needed, that classical music in Poland is in great demand!
The audience of La Folle Journéecovers the full spectrum – in terms of clothing style and age – from babies in prams and slings attending the Toddler Philharmonic [Smykofonia] – concerts which were sold out in one week from the day tickets went on sale – to school children, students, all the way to seniors.
"After last year, the bar – both in terms of the programme and the number of visitors to the festival – was raised very high. Thus, it was obvious that our listeners' expectations this year were also very high. We were afraid if we would rise up to the challenge, if only because our budget this year was less than half of what we had one year ago. Looking at the attendance records, however, I'm confident beyond all doubt – it worked! We wish to thank our audience for their trust. We are happy to have you with us. Please come again next year!" – comments Janusz Marynowski, Director of the Sinfonia Varsovia Orchestra, the chief organiser of the festival.
This year, approximately 1 000 performers from all over the world at nearly 60 concerts played works by renowned composers from France and Spain, including Debussy, Bizet, Ravel, Albeniz, Fauré, Poulenc, De Falla and Rodrigo. Many artists received standing ovations after their concerts. Tickets to most concerts were sold out, such as concerts by Quatour Modigliani, which was hailed by many as "one of the festival's brightest highlights". Excellent performances were also delivered by young performers from 11 schools from all overPoland, winners of a competition organised by the Sinfonia Varsovia Orchestra and by the Centre for Artistic Education.
Festival concerts were accompanied by other attractions, including spirited dance shows by the Cañizares Flamenco Quartet and Café Cortao Compañia Flamenca, which could be seen each day of the festival and original film animations by Mariusz "Wilk" ["the Wolf"] Wilczyński performed live with music.
The festival was also quite popular among Facebook users. The La Folle Journéefanpage has almost 2 000 fans, some of whom left comments such as: "A mega feast for the ear, eye and soul. Thank you!", "It was great!", "It was fantastic!", "It was mega super!", "A great festival", "Starting today this is my favourite party in Warsaw!", "I'm really impressed. It was wonderful, atmospheric, unforgettable moments. Great talent and charisma!!!!", "We're waiting for the next festival".
The organisers of the festival in Poland wish to thank the audience for a great time together this year and would like to invite you to another wonderful adventure with classical music next year, 26-28 September, 2014.