Smykofonia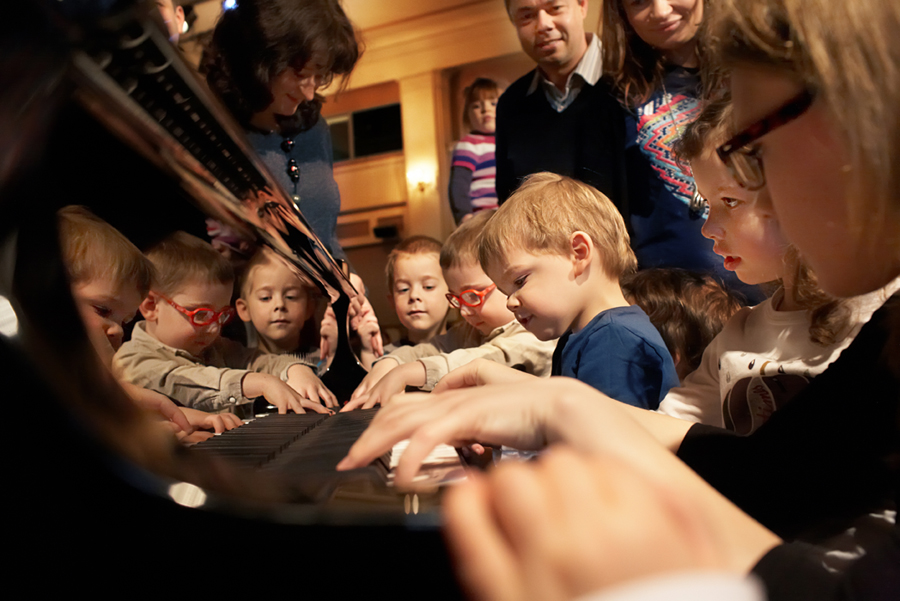 It is Smykofonia's third time playing at the La Folle Journée Festival. Please attend special family concerts for music-loving toddlers
aged 0-5.
Smykofonia [Toddler Philharmonic] – a concert season for toddler music lovers, parents, grand-parents, uncles and aunts under the slogan: It's never too early for music!
Organised by the Music is for Everyone Foundation, interactive Smykofonia concerts take place in the Sinfonia Varsovia Orchestra's rehearsal hall, in the Mazowieckie Centre of Culture and Arts, and also in Siedlce, Sokołów Podlaski, Otwock and Węgrów, and during the La Folle Journée Festival in the Grand Theatre – National Opera. The project is organised with support from the Orange Foundation, the Bureau of Culture in the Capital City of Warsaw and the Ministry of Culture and National Heritage.
Smykofonia started in 2011, astonishing parents and immediately attracting a huge following.
The audience is won over by the relaxed, family atmosphere of the concerts, a lack of barriers between the stage and the audience, interesting concert programs, a varied repertoire (classical, folk and jazz music), musical games for everyone, singing of easy songs and dance, an opportunity to experience instruments up close and the participation of great musicians, and even stars, such as Olga Pasiecznik, Krzysztof and Kuba Jakowicz, the Arte dei Suonatori ensemble, Il Canto and many other fine artists.
Smykofonia has won a number of important prizes, including the "Sunflower" from the portal CzasDzieci.pl, "Guarantee of Culture" from TVP Kultura, the S3KTOR award in 2012 in the "Culture" category and 1st place in the "Children's District" competition. For more information please visit www.smykofonia.pl.
Please join us at our concerts during La Folle Journée 2013:
Saturday, 28 September 2013 , 10:00, 11:15, 12:30, The Small Auditorium
"In a Children's Corner"
The concert is inspired by Claude Debussy's piano cycle "The Children's Corner". Here we will find Camille Saint-Saëns' carnival animals, a dancing jack-in-the-box, a doll named Olympia and fairy-tale arabesques. Works by French composers will be performed in their original versions and in arrangements by Mariusz Bulicz. The concert will be hosted by Ada Wdziękońska.
Sunday, 29 September 2013, 10:00, 11:15, 12:30, The Small Auditorium
"The Toddler Philharmonic under the Sun of Spain"
The energy of Spanish music certainly favours spirited fun and games, so the concert will certainly feature dancing and rhythmic improvisations. There will be a singer with castanets, the Spaniards' beloved instrument, the guitar, and a toreador from the opera "Carmen". You will be able to catch your breath by spending a few moments in Aranjuez and Ravel's mysterious "Bolero" will hypnotise us once again. The concert will be hosted by Ada Wdziękońska.
All interested in participating in this project, attending Smykofonia concerts and events in future seasons and receiving information about the project and concerts are invited to visit our websites: www.smykofonia.pl, www.muzykajest.pl and sign up to receive the newsletter. You are also welcome to use the web song-book: www.spiewajmimamo.pl