A Classical Music Festival that Draws Crowds
La Folle Journée 2013 – music from France and Spain
27-29 September 2013
3 days – 60 concerts – 1000 artists
Dancers with castanets, the toreador from the z opera "Carmen", Spaniards' beloved guitars and the hypnotic Bolero – these are all characteristic accents of La Folle Journée – Music from France and Spain – this year's Polish edition of the greatest festival in the world which popularises classical music which will visit Poland on the last weekend in September. Concerts accessible to all – this is the premise of the festival – will take place in four auditoriums of the Grand Theatre-Polish National Opera. For the duration of the festival they will take on the names of famous Frenchmen and Spaniards: Balzac, Picasso, Eiffel, Proust. Concerts will also take place in a tent set up in the Theatre Square. The patron of the concert tent, where admission is free is Gaudi.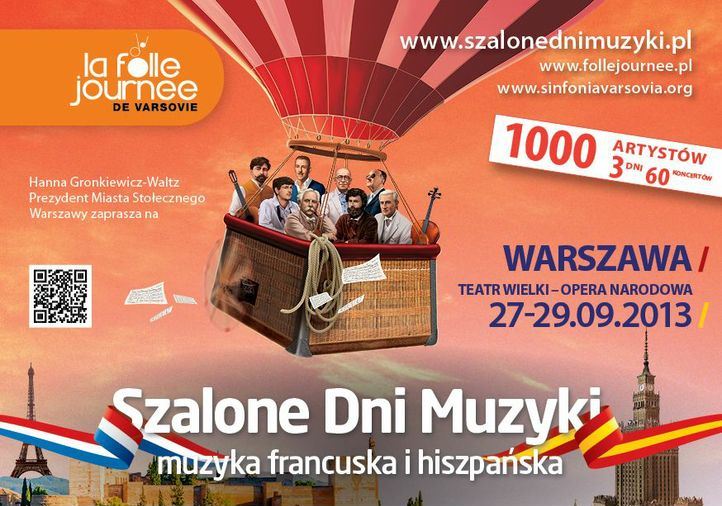 Each year, the Festival draws tens of thousands of visitors to Warsaw. It is an excellent way for the city's residents to spend leisure time, get away from everyday activities or go on a date with their beloved. It is also an opportunity to visit the Grand Theatre in a relaxed atmosphere. It is this atmosphere, combined with excellent, unusual concerts that draws increasingly greater numbers of the Festival's fans and tickets priced at 7 and 10 PLN are going quickly.
"This year we combined music from two beautiful countries: Spain and France, so the mood will be energetic, romantic, hot and hypnotic. This time, music will be accompanied by temperamental flamenco dances and absorbing film animations. The interest is enormous. This is clear from how quickly the tickets are selling this year." – comments Janusz Marynowski, Director of the Sinfonia Varsovia Orchestra, the festival's chief organiser.
These attractions include exuberant shows by the Cañizares Flamenco Quartet and Café Cortao Compañia Flamenca, which can be seen at selected concerts each day of the festival and imaginative film animations by Mariusz "Wilk" [the Wolf] Wilczyński that accompany the live music. This excellent performer became famous after doing similar shows on stages inFrance andJapan, where he was enthusiastically received by audiences. "The Wolf's" shows will take place during two concerts on the last day of the festival, one of these being the closing concert. It is undoubtedly worth becoming very closely acquainted with the program of the festival.
But La Folle Journée is mainly about great music.
Over 3 days, 1000 artists from all over the world will perform in 60 concerts in four auditoriums in the Opera and in the concert tent in the Theatre Square, where admission is free. They will play the works of such renowned composers as Debussy, Bizet, Ravel, Albeniz, Fauré, Poulenc, De Falla and Rodrigo.
"La Folle Journée – Music from France and Spain" begins on Friday (27.09) with the opening concert in Salle Balzac – the festival's largest stage, scheduled for symphonic concerts by the best Polish orchestras. The first sounds will be played by magical pianist Philippe Giusiano. He will be followed by the castanets of Lucero Tena and by the guitar, an instrument beloved not only by Spaniards, played by Juan Manuel Cañizares himself. These performances, combined with dances performed by other members of the Cañizares Flamenco ensemble and with a concert by the festival's main organiser, Sinfonia Varsovia, conducted by Jean-Jacques Kantorow, all account for a unique spectacle. Concerts in Salle Balzac can be appreciated by an audience of 1 600.
That same evening, make your way to Salle Picasso, which holds an audience of 350 and is simply the Opera's backstage area. The opportunity to see this beautiful hall, open to the public only during the La Folle Journée festival, is in itself worth the admission price. The organisers also remembered to provide an attractive aural experience, an excellent example of which is the phenomenal Quatuor Modigliani. On the second day, Saturday (28.09), it is certainly worth visiting the Salle Balzac once again to listen to the violin, with which Augustin Dumay and the Sinfonia Varsovia Orchestra will open the doors to the soul of every listener. This symphonic concert is immediately followed by another, showcasing the skill of world-famous pianist Luis Fernando Pérez. For those who prefer chamber music, Augustin Dumay will play the same evening in Salle Picasso, accompanied by, among others, piano virtuoso Michel Dalberto.
On Saturday morning, the Grand Theatre-National Opera will give a very warm welcome to the youngest fans of classical music presented in a relaxed atmosphere – children aged 0 to 5. They will attend the traditional "Smykofonia" [Toddler Philharmonic] concerts, addressed to babies, children and pregnant women. These always attract crowds of kids. Saturday's Toddler Philharmonic concert is called "Children's Corner", inspired by Claude Debussy's cycle of pieces for piano. Here we will find Camille Saint-Saëns' carnival animals, a dancing jack-in-the-box, a doll named Olympia and fairy-tale arabesques. Works by French composers will be performed in their original versions and in arrangements by Mariusz Bulicz. Even though Salle Eiffel, in which the Toddler Philharmonic concerts are held offers 240 seats, book soon because it is for these concerts that tickets are sold out first.
On Saturday, you simply cannot pass by without dropping in the Gaudi concert tent which in the evening will host a concert by Café Cortao Compañia Flamenca, which will also lead a mini-flamenco dance workshop. All this will happen in a tent which holds 400. Admission is free, but each year there are lines outside the tent to get in.
The third and last day of the festival is Sunday (29.09), beginning with a symphonic concert in Salle Balzac. A true tour de force, showcasing the world-class talents of pianists Philippe Giusiano and Duo Jatekok, animation director and performer Mariusz "The Wolf" Wilczyński, Sinfonia Varsovia and conductor Arie van Beek. Several hours later, in the same auditorium, fans of Carmen cannot miss a symphonic concert by the Polish Sinfonia Iuventus Orchestra conducted by Tadeusz Wojciechowski.
Those, who prefer chamber music concerts should visit Salle Proust as many times as they can during the three days of the festival. It is here that excellent chamber ensembles will perform, including Quatuor Modigliani and the Silesian Quartet, as well as the inimitable sisters Olga (soprano) and Natalia (piano) Pasiecznik. Each concert can be attended by an audience of 250.
Sunday morning also belongs to "Smykofonia", this time in a Spanish rhythm. During a concert entitled "Smykofonia under the Sun of Spain", Salle Eiffel will witness a dancer with castanets, the Spaniards' beloved guitar and a toreador from the opera Carmen. Get your tickets soon, because they will surely be gone in a flash.
For the duration of the festival, the Gaudi concert tent in Theatre Squarewill be filled with music performed by the best ensembles from 10 Polish music schools inBielsko-Biała,Bydgoszcz,Częstochowa,Gdańsk, Jastrzębie-Zdrój,Lublin, Łódź,Wałbrzych andWrocław.
The festival will conclude in Salle Balzac with a symphonic concert by the National Philharmonic Symphony Orchestra under the direction of Antoni Wit and, of course, the closing concert – a combination of such excellent talents as Augustin Dumay (violin), Juan Manuel Cañizares (guitar), Lucero Tena (castanets), the Sinfonia Varsovia Orchestra, Jean-Jacques Kantorow (conductor) and Mariusz "The Wolf" Wilczyński (live animation). Thanks to them, we will be able to experience a unique performance of Ravel's famous Bolero.
Tickets priced at PLN 7 and 10 are already on sale at the box office of the Grand Theatre – Polish National Opera, on-line at www.teatrwielki.pl and www.ebilet.pl  and in e-Bilet locations. More information is available at www.szalonednimuzyki.pl.